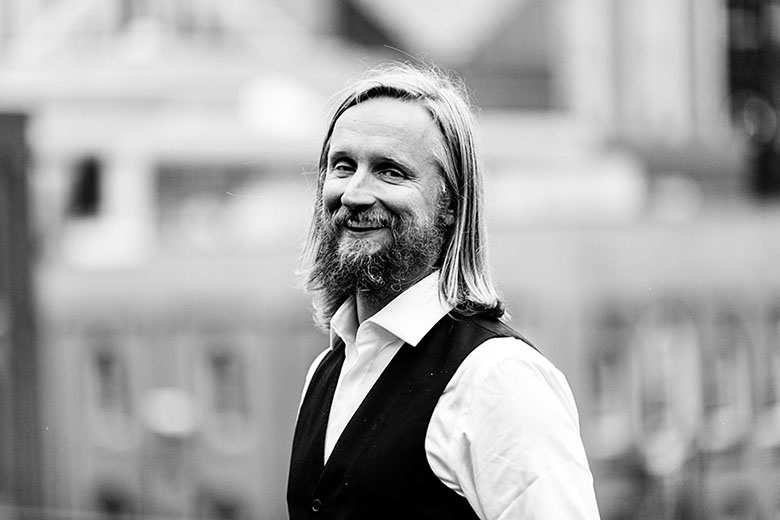 Alex Orbison is a third generation musician, producer, publisher, film director, author and the youngest son of the rock and roll legend, Roy Orbison. His path in music started by playing violin at the tender age of three because his hands were too small to fit around the neck of a guitar. With age and bigger hands, Alex eventually moved on to guitar and piano before finding his way to the drums at age eight. His father, Roy Orbison, already had had his own radio show at the same age.
Alex joined his first band and started gigging around fourteen. By seventeen, Alex took his first professional job in music, working in publishing for the Don Williams Music Group in Sherman Oaks California; but a year later, he was back on tour with his band, Backbone. Backbone was co founded by Alex with Chris Williams, son of legendary songwriter Jerry Lynn Williams. With Backbone, Alex toured for the next eight years until Chris was tragically killed in a car accident. Alex spent time bouncing between gigs with a number of local Los Angeles acts before eventually joining Cisco Adler, son of Lou Adler, in his band Whitestarr which, in time, also expanded into a reality TV show. The group disbanded in 2007, after which, Alex took to studying finance.
After three years of study, Alex finished the novel he had started while living on the road. A few days before the celebration of what would have been his father Roy Orbison's 75th birthday, Alex's mom, Barbara, was diagnosed with pancreatic cancer. The disease would claim her life seven months later.
Alex had promised his mother that if anything happened to her, he would 'get down to Nashville and take care of business.' That commenced with the re-positioning of Still Working Music in 2012, and the Orbison brothers taking the reigns of his father's recordings and publishing businesses. The brothers hired on Chuck Fleckenstein to help manage all these endeavors. At Still Working, Alex's first move was to re-sign Tommy Lee James – Tommy had been a Still Working writer from Barbara's founding of the company. Tommy quickly proved his worth with the delivery of "My Eyes," his sixth Still Working #1 and first under Alex's leadership. Since 2012, Still Working has also signed or re-signed seven additional writers and has designs on expanding further.
Insofar as Alex's father's music is concerned, Alex and his brothers Wesley and Roy Jr, recently co-executive produced a documentary "Mystery Girl: Unraveled" about the last couple of years of their father's life and career (Alex also directed the film). Alex also re-imagined and re-mastered the iconic concert Roy Orbison & Friends: A Black & White Night, releasing it the year of it's 30th anniversary.The first estate authorized Roy Orbison biography, penned by Alex Orbison, Roy Orbison Jr, Wesley Orbison with Jeff Slate, will be released in October. A record with the Royal Philharmonic Orchestra will be released in November. The Orbison brothers have broad plans for their father's legacy – films, musicals, plays – with no end in sight.
In the words of a wise man we know:
Anything you want, you got it.